The Commission's remit is to promote the safety of people within churches of the Anglican Communion – with a particular focus on children, young people and vulnerable adults. During the first phase of its work, 2016-2019, the Commission will identified safeguarding policies and procedures already in place within the Anglican Communion and developed new international guidelines. The guidelines were presented to the Anglican Consultative Council in Hong Kong in 2019 (ACC17) where they were approved.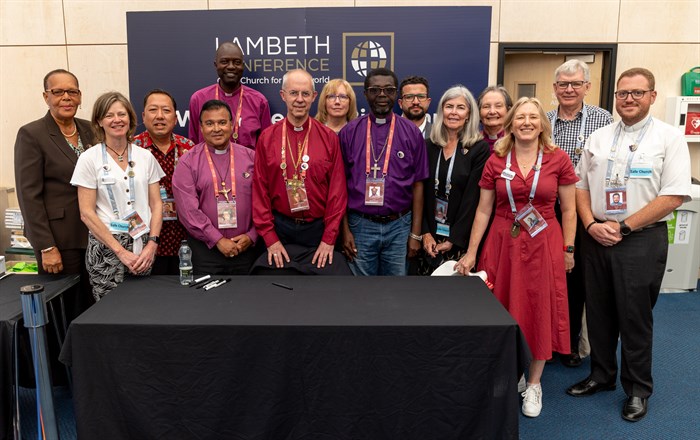 Safe Church Commission members at the Lambeth Conference 2022
The Commission is chaired by senior counsel Garth Blake, a senior member of a tribunal, who also chairs the Anglican Church of Australia's Safe Ministry Commission. The other members of the ACSCC are:
Marcel Cesar Pereira - Brazil
Bishop Cleophas Lunga - Zimbabwe
Yves Iradukunda - Burundi
Bishop Brian Marajh - South Africa
Bishop Festus Yeboah-Asuamah - Ghana
Mary Wells - Canada
Bishop Viv Faul - England
Cruz Edgardo Torres Cornejo - Central America
Daphne Audsley - Scotland
Kim Barker - Co-opted Facilitator - South Africa
Ena Barclay - West Indies
Fr Wadie Far - Jerusalem and the Middle East
Robin Hammeal-Urban - United States
Canon Andrew Khoo - Malaysia
The Revd Shazhad Gill - Pakistan
Naw Laldini - Myanmar
The establishment of the Anglican Communion Safe Church Commission was requested in one of four
safeguarding resolutions
agreed at ACC-16. Its creation builds on the adoption by the ACC-15 of the Charter for the Safety of People within the Churches of the Anglican Communion. The text of the Charter is included in Schedule 2 of the Guidelines. 
The ACC also agreed to establish an international Protocol for the disclosure of ministry suitability information between the churches of the Anglican Communion so that priests are unable to move from one province to another to avoid investigation of complaints or concerns. The text of the Protocol is included in Schedule 3 of the Guidelines.
During its meeting in 2019, the ACC requested Member Churches of the Anglican Communion to adopt the Charter, and implement the Protocol and the Guidelines (ACC17 resolution C17.01). The ACC also requested a reconstitution of the Commission to undertake further work for a period of six years in accordance with the terms of reference recommended in the ACSCC report to ACC17.
Prayers
For those suffering abuse
Loving God, whose Son was both victim and victor,
we cry to you for those suffering abuse,
[especially...]
Be with them in confusion and pain.
Heal the wounds of body and mind;
break open the prisons of fear, self-doubt and despair;
and strengthen them to face the future with faith, hope and courage.
Reach out to them with your love,
that they may be made whole in boy, mind and spirit,
through the healing touch of the suffering Christ. Amen
God, our redeemer and sustainer,
we pray for survivors of violence, abuse and neglect.
Give your power to the powerless,
your fullness to the empty of spirit.
Heal their wounds, free them from fear,
and restore them to true health.
Grant this through Jesus Christ,
the crucified and risen Saviour
who is alive and reigns with you and the Holy Spirit,
one God, for ever and ever. Amen
Those who abuse
Judge of all the Earth,
God of justice,
we bring before you all who abuse others.
Fill them with a hatred of the damage they do,
so bringing them to true repentance
and amendment of their lives,
for Jesus Christ's sake. Amen
(taken from The Anglican Church of Australia's "A Prayer Book for Australia". Broughton Books. 1995.)