About Rowan Williams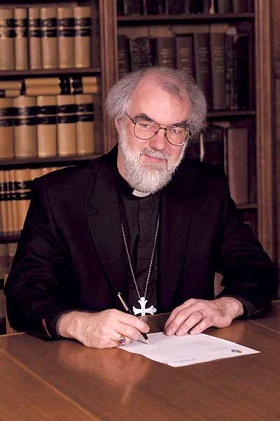 Rowan Williams was born in Swansea in 1950 in a Welsh-speaking family from the Swansea Valley. He was educated at Dynevor Secondary School, then at Christ's College, Cambridge, where he studied Theology. After research in Oxford (on Russian Christianity), he spent two years at Mirfield before returning to Cambridge in 1977, where he spent nine years in academic and parochial work. He and Jane Paul were married in 1981, and have two children, Rhiannon (born 1988) and Pip (born 1996). Jane now teaches at Trinity College, Bristol.

From 1986 - 1992, Rowan Williams was Professor of Theology at Oxford. During the 80's Rowan and Jane were able to spend brief periods teaching theology and travelling in India (where Jane grew up) and Southern Africa. Rowan has written a number of books on the history of theology and spirituality and published collections of articles and sermons - as well as a book of poems in 1994. He has been involved in various commissions on theology and theological education, the Dearing Working Party on Church Schools, and chaired the group that produced the report 'Wales: a Moral Society?' in 1996.
Elected
Bishop of Monmouth 5th December 1991 at St Woolos Cathedral, Newport
Consecrated
St Asaph Cathedral on the feast of St Philip and St James, 1st May 1992, by the Archbishop of Wales, the Bishops of Bangor, Llandaff, Swansea and Brecon, St David's, Tuam, Glasgow, Gloucester, Kingston, Lancaster and Shrewsbury; the Old Catholic Bishop of Bonn, and Bishop George Noakes, Bishop Ronald Bowlby, Bishop Colin Buchanan, Bishop Ronald Gordon, Bishop Robert Martineau, Bishop Eryl Thomas, Bishop Benjamin Vaughan and Bishop Clifford Wright.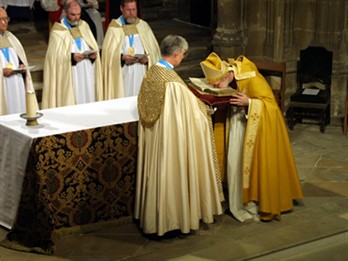 Enthroned
St Woolos Cathedral on 14 May 1992
Elected
Archbishop of Wales, December 1999
Enthroned

St Woolos Cathedral on Saturday 26 February 2000