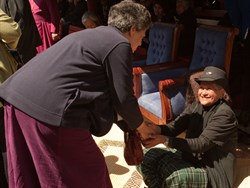 Starting out on the journey of Christian faith can look very different for people - it on depends where they live, their family background, their age. For some, the journey of faith has immediate challenges - even dangers. For others it is the natural outworking of growing up in a Christian context.
Whatever the context or background the initial new steps of faith should be those of discovery and light.
"Were not our hearts burning within us while he was talking to us on the road, while he was opening the scriptures to us?" Luke 24:32
The Anglican Witness Discipleship Path points you towards resources that focus on helping you, or those in your care, to start out on that amazing journey of faith - building strong foundations for life.