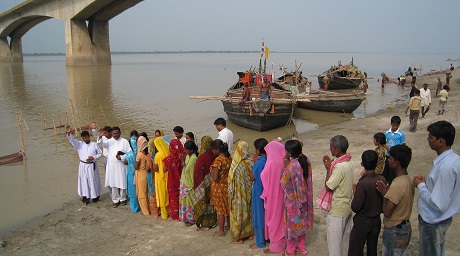 In the 21st century the impact of faith on human character and everyday life has largely diminished even in the areas with large Christian presence. Anglican leaders all over the Communion have highlighted the gap between faith and practice and the way the two are seen as distinct. "We have no problem filling our churches with people, but they need to know what it means to be Christians, that is where we need help", said former Primate of the Anglican Church in Melanesia, Archbishop David Vunagi.
Meanwhile, in his installation Charge, Archbishop Jackson Ole Sapit of Kenya asked, "If Christians form 80% of Kenya's population, why are our elections often violence-prone? Why is our society riddled with corruption, nepotism and a great level of social stratification? Why are environmental degradation, poverty and disease still ever-present realities?"
And in their 2014 Lenten letter to the London Diocese Bishops wrote, "One of the themes which emerged from the conversations distilled in the Capital Vision 2020 was a repeated call for ways of equipping people more effectively to live and speak the Gospel of Jesus Christ in their everyday lives."
For many people, those of faith and those with none, Christianity in general has become unattractive, and here are some of the indicatorspeople from different contexts of the Communion point to:
diminishing Christian influence in public life;
decline in Church attendance and membership;
diminishing confidence in the Bible and failure by Christians to articulate their personal faith;
diminished confidence among Christians to effectively live and speak in daily life;
Christianity as a 'nominal religion' - even in areas where the Church has numerical strength;
sustained division between 'sacred' and 'secular' and the failure to connect faith and work place;
fewer Christian models to inspire the young generation in Christian discipleship.
Although 'making disciples' is Christ's mandate given to his followers and those after them, in recent decades there has been little intentional emphasis on equipping, mentoring, forming, teaching, or maturing all the baptised to be lifelong disciples whose faith is to have impact in every sphere of their daily experience.
While Anglican commitment to evangelism and Church growth around the Communion has been significant, especially during the Decade of Evangelism, it is also true that many such initiatives were mostly aimed at getting people into churches or creating new churches (which is a good), but hardly focused on teaching and mentoring and deploying both new and existing believers. Discipleship is an essential part of evangelism and vice versa discipleship always includes evangelism. So, the two are not opposite sides of each other but integral to each other.
It is on the basis on this background that the 16th Anglican Consultative Council (ACC-16) called for a Season of Intentional Discipleship, that every province, diocese and parish in the Anglican Communion to adopt a clear focus on intentional discipleship and to produce resources to equip and enable the whole church to be effective in making new disciples of Jesus Christ (Resolution 16.01). This vision expresses the need,
For Anglicans/Episcopalians equipping the whole body of Christ to be witnesses to Christ's reconciling love in their everyday life.
To explore ways of resourcing the Church to equip the whole people of God to more effectively live and speak the Gospel of Jesus Christ in their everyday life.
To be witnesses to Christ's love by intentionally living the Five Marks of Mission.
To discover and promote the gifts and skills Christians have and 'deploy' them as Christ's ambassadors wherever they are.
To produce, gather and share resources - using variety of media.
Download a major report in pdf Intentional Discipleship and Disciple-Making, An Anglican Guide for Christian Life and Formation (English) (Spanish) (Portuguese) (Chinese) or order a hard copy from Anglican Communion Office.
Also find a variety of online resources and share your resources and how Christians are living their life of witness as disciples in your own context.