Jesus Christ urged his disciples to "go and make disciples of all nations". Anglicans and Episcopalians around the world are still responding to that 'Great Commission' today by supporting evangelism, training, discipleship and church growth globally.
The current focus across the Anglican Communion is on Intentional Discipleship which was the theme of the Anglican Consultative Council in 2016 (ACC-16). A Season of Intentional Discipleship and Disciple-Making (SIDD) was launched at ACC-16. It will run until ACC-19, in 2025. A video to mark the launch of the Season of Intentional Discipleship was commissioned by the Intentional Discipleship Co-ordinating Group.
| | | |
| --- | --- | --- |
| | | |
| Members of the Anglican Consultative Council vote for a Season of Intentional Discipleship during their ACC-16 Meeting in Lusaka, April 2016 | |  Sous-titres en Français; subtítulos en Español; legendas em Português |
Intentional Discipleship has its origins in Anglican Witness, an initiative committed to evangelism and church growth set up after the Lambeth Conference in 2008. 
In 2017 a new Co-ordinating Group was established to oversee the Season of Intentional Discipleship across the Anglican Communion. Their work has included:
Supporting well over 100 dioceses and many of the 41 provinces to formally adopt Intentional Discipleship as a key priority and / or host Consultations and workshops on this subject


Producing seminal resources to explain and catalyse a focus upon Intentional Discipleship: Living & Sharing Jesus Shaped Life


Developing a vibrant and growing Facebook community where members can increasingly learn and share ideas, resources and good practice and encouraging a JSL Prayer Network


Collating a range of Intentional Discipleship Resources from across the Anglican Communion and making them available here in a Resource Hub


Beginning to draw key leaders together regionally to share good practice, resources and encouragement
This is a growing movement across the whole communion and the vision of the Co-ordinating Group is "to encourage every Anglican and every Anglican Church to live, love and be like Jesus – in every part of life - for the sake of the whole creation and to the glory of God". The vital importance of this call was re-affirmed at ACC-17 on the theme of "Equipping God's People: Going Deeper in Intentional Discipleship".
Another priority is investing in work with children and young people. To that end two Youth and Children Ministry Awards are presented at the triennial ACC meetings. The awards recognise excellent work to nurture and grow disciples among children and youth (See here for criteria).
| | | |
| --- | --- | --- |
| | | |
| An update on the Season of Intentional Discipleship in the Anglican Communion, prepared for members of the Anglican Consultative Council at their ACC-17 meeting in Hong Kong, May 2019. | |   |
Discipleship resources
Discipleship is about equipping Christians to live their everyday lives as followers of Jesus Christ, following his example and his teaching. It is about putting faith into practice and helping other believers to do the same. It is about mentoring and encouraging believers so that their faith has an impact on the world around them.
Resources are continually being developed around the Communion by leaders, missiologists and workers involved in evangelism, discipleship and church growth. The Intentional Discipleship Co-ordinating Group monitors and showcases the best resources, publications and ministries.
In particular, the former Anglican Communion Director for Mission, the Revd Canon John Kafwanka, co-edited a major report on Intentional Discipleship and Disciple-Making for ACC-16. To download a pdf, click English; Español, French, Português, or Chinese.
Why have a Season of Intentional Discipleship?
Anglican leaders have highlighted the need for a Season of Intentional Discipleship. The Primate of Central America, Archbishop Julio Murray, said: ". . . become part of this tremendous movement, because that is not only what the Church needs, but is also what God wants for us: an Intentional Discipleship".
At his installation as Primate of Kenya, Archbishop Jackson Ole Sapit noted: "If Christians form 80 per cent of Kenya's population, why are our elections often violence-prone? Why is our society riddled with corruption, nepotism and a great level of social stratification? Why are environmental degradation, poverty and disease ever-present realities?"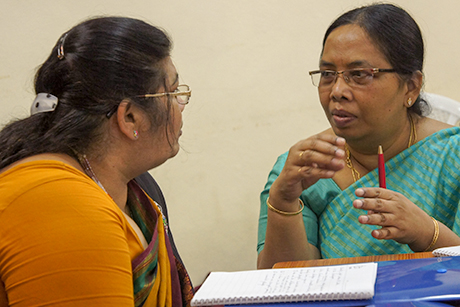 The Season of Intentional Discipleship & Disciple-Making was launched and continues against a backdrop of huge global challenges such as: the present Covid-19 pandemic with its economic & social injustice implications; unprecedented levels of migration; the constant threat of conflict among nations and peoples; religious, ethnic and tribal violence, gender-based violence; the challenges of climate change; declining church attendance in parts of the world and rising liberal secularism.
Growth in Discipleship is precisely what equips us to face all these contemporary challenges. We therefore seek a culture change within the Anglican Communion where
Anglicans and Episcopalians become known as disciples who make more disciples


Intentional discipleship and discipleship-making are embedded in Anglican church culture


Discipleship become a way to learn from each other across the Communion


Every Anglican and Episcopalian is enabled to articulate their faith in the Gospel of Jesus Christ


Christians living Jesus Shaped Lives have a positive impact on their communities, homes and workplaces
---