Towards Ending Statelessness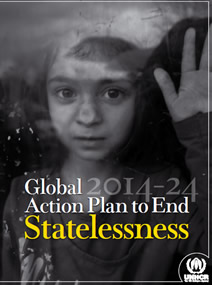 The issue of statelessness can be addressed by reforming nationality legislation, where appropriate, and by encouraging effective birth registration. The Anglican Communion is in partnership with UNHCR to encourage the provision of better nationality legislation and, in particular, to promote and facilitate birth registration in parts of the world where either awareness of the issue is limited or the costs and logistics of registering a child are prohibitive.
In September 2014, Anglicans and their ecumenical partners participated in the UN Global Forum to End Statelessness, which was help in the The Hague. Jointly organized by Tilburg University and the United Nations High Commissioner for Refugees, the conference was attended by 300 participants from 70 countries, representing academia, government, UN, civil society, stateless and formerly stateless persons and the media. A contribution was also made to the Global Forum by the World Council of Churches, who have been advocating for the rights of the stateless.
Archbishop Emeritus Desmond Tutu is among global leaders who have signed up to show their commitment to ending statelessness, participating in the UNHCR's global statelessness campaign to reduce the number of people in the world who have no country they can call home.
The Anglican Communion is also a member of the #Ibelong campaign. If you would like to commit your church to helping end statelessness, you can join the campaign here. 
In recent years, a good example of nationality reform has come from Côte d'Ivoire, where the law has been altered to allow stateless people and long-term residents to apply for citizenship. As a result, the Ivoirian government is working hard to determine the nationality of the 700,000 people in the country who are either stateless or without documentation to prove their nationality, allowing many of the Ivoirian children that were never registered to enrol in school for the first time.
Further reform has come in Sierra Leone, where the nationality law was amended in 2006 to allow women to pass on their nationality to children born in the country, or to children born outside the country if the child would otherwise be stateless. In Kenya, following reform in 2010, a child born to a Kenyan parent is automatically granted citizenship. Both of these cases provide examples of states removing discrimination from their nationality laws, thereby helping to reduce the problem of statelessness.
The Anglican Communion Office at the UN is currently supporting the World Council of Churches' efforts to end gender discrimination in two countries in the Caribbean - the Bahamas and Barbados - where women and men are not able to pass their nationality to their children on an equal basis. You can read more about this work here.  
Resources
No Child Should Be Stateless, European Network on Statelessness
Advocacy for the Rights of Stateless People, World Council of Churches