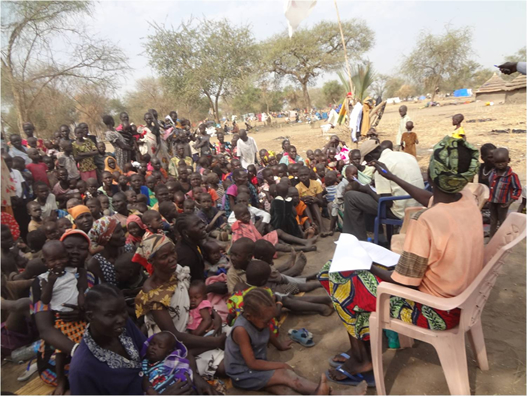 Women leading crisis response in Awerial, South Sudan a Diocesan DRR worker facilitates a community meeting for internally displaced persons who have recently arrived.

Photo Credit: Photo Credit: UNHCR
Welcoming the Stranger is an initiative to encourage faith communities to welcome those who arrive and who are seen as "strangers" in their communities. It is a way for us to stand together as people of faith as we receive migrants, refugees, and other displaced persons. Welcoming the Stranger grew out of a dialogue of the United Nations High Commissioner for Refugees (UNHCR) with faith leaders, faith-based humanitarian organisations, academics and government representatives from around the world, which developed a set of affirmations to be used as a tool to encourage us to support refugees and other displaced persons.
In December 2012, UN High Commissioner for Refugees, António Guterres, organised a High Level Dialogue on Faith and Protection in Geneva. The Anglican Communion was represented at the dialogue by Archbishop Daniel Deng of the Episcopal Church of Sudan and South Sudan. Gutierres noted in his opening remarks that "all major religious value systems embrace humanity, caring and respect, and the tradition of granting protection to those in danger. The principles of modern refugee law have their oldest roots in these ancient texts and traditions." At the conclusion the High Commissioner embraced a recommendation for the development of a Code of Conduct for faith leaders to welcome migrants, refugees and other forcibly displaced people, and stand together against xenophobia. In response to this call, between February and April 2013, a coalition of leading faith-based humanitarian organizations and academic institutions drafted the affirmations, which aim to inspire leaders of all faiths to Welcome the Stranger with dignity, respect and loving support and are a resource and a practical tool to foster support for refugees and other displaced people in their communities.
World religious leaders signed the affirmations at the 9th Assembly of Religions for Peace in Vienna, Austria, in November 2013 and it was signed by the Archbishop of Canterbury, Justin Welby, at the 10th Assembly of the World Council of Churches in Busan, South Korea. The affirmations are available in Arabic, English, French, Chinese, Hebrew, Russian and Spanish.
Anglicans and Episcopalians are committed to Welcoming the Stranger in their life, witness and in loving service and the initiative is one of the two priorities for the Communion's Representative to the United Nations Institutions in Geneva. In some places we Anglicans find ourselves as both those who welcome and as those who arrive.
'Migration Review' November 2014 issue has a special focus on 'Faith and responses to displacement'.  It is available online, in audio and print formats in English, Arabic, French and Spanish. It includes the article on Welcoming the Stranger and UNHCR's co-operation with faith-based organisations.
Please share your stories of experience both of being welcomed and of work and programmes to welcome those who arrive with your brothers and sisters in the Communion.
Stories from the Churches
Churches respond to the refugee crisis
Partner Organisations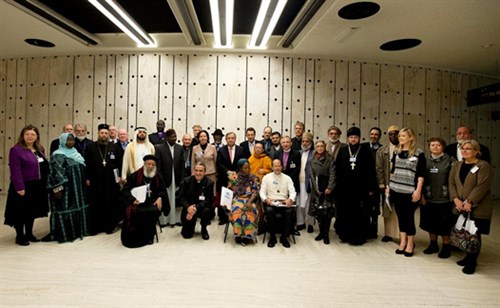 A group photo after the fifth High Commissioner's Dialogue in Geneva, Switzerland, 12 December 2012

Photo Credit: Photo Credit: UNHCR/Jean-Marc Ferré
More information about organisations which helped to develop the Welcoming the Stranger affirmations:
The United Nations Refugee Agency (UNHCR) is mandated to lead and co-ordinate international action to protect refugees and resolve refugee action worldwide. It works to safeguard the rights and well-being of refugees, and to ensure that everyone can exercise the right to seek asylum.
Religions for Peace advances common action among the worlds' religious communities for peace. This cooperation includes, but also goes beyond, dialogue, and bears fruit in action.
Islamic Relief Worldwide is an international relief and development charity which works through its Islamic values to mobilise resources, build partnerships, and develop local capacities, in its work to mitigate disasters, support integrated development and address the root causes of poverty.
The cornerstone of the Jesuit Refugee Service is to offer holistic human services through accompaniment to forcibly displaced persons, as well as providing education, emergency relief assistance, healthcare, pastoral/social services and more.
HIAS, guided by their Jewish values and history, works to protect refugees whose lives are in danger for being who they are. This includes through international programmes with a number of partners, as well as through refugee resettlement programmes.
Lutheran World Federation is a communion of Churches in the Lutheran tradition, who strive to put their faith in action within and beyond the communion, including through serving those in need and advocating for a more peaceful and just world.
World Council of Churches is a fellowship of churches seeking Christian unity. They engage in Christian service by serving human need, breaking down barriers between people and seeking justice and peace.
World Evangelical Alliance is a global ministry working with local Churches around the world. Their vision is to see Christ-like transformation around the world, including through addressing concerns of evangelicals and advocating for the marginalised.
World Vision International is a Christian humanitarian organization dedicated to working with children, families, and their communities worldwide to reach their full potential by tackling the root causes of poverty and injustice. Working in nearly 100 countries around the world, they serve all people, regardless of religion, race, ethnicity, or gender.