Anglicans and Lutherans have been involved in close dialogue since their distinctive denominations emerged at the time of the Reformation. Modern theological dialogue began at the global level in 1972 and has sought to build on the success of regional co-operation evidenced by the Helsinki Report 1982 (Europe), the Meissen Common Statement 1988 (England and Germany), the Porvoo Common Statement 1992 (the British and Irish Anglican Churches and the Nordic and Baltic Lutheran Churches), the Reuilly Common Statement 1999 (the British and Irish Anglican Churches and the French Lutheran and Reformed churches), Called to Common Mission 1998 (USA), the Waterloo Declaration 2001 (Canada), Common Ground 2001(Australia), and the All Africa report 2001. The third phase of the Anglican - Lutheran International Commission began in 2006 and is considering ways to build on existing relationships with the aim of bringing all the churches of the Anglican Communion and the Lutheran World Federation into fuller communion. 
Anglican Lutheran Agreements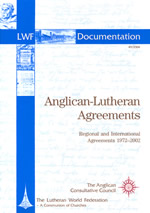 A compendium ecumenical agreements from 1972-2002, and the text of The Pullach Report 1972; The Helsinki report 1982; The Cold Ash Report; The Niagara Report 1987; The Meissen Common Statement 1988; The Porvoo Common Statement 1992; The Hanover Report 1995; The Reuilly Common Statement; Called to Common mission; The Waterloo Declaration 2001; Common Ground (Australia); The All-Africa Anglican-Lutheran Commission Report 2001; Growth in Communion 200-2002.



To Love and Serve the Lord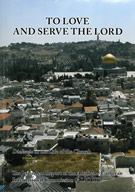 Published by the Lutheran World Federation 2012 This Report from the third phase of the Anglican-Lutheran International Commission (ALIC III)

 Download here