A weekly roundup of Anglican Communion news plus opinion, reviews, photos, profiles and other things of interest from across the Anglican/Episcopal world.
This edition includes...
This week's Anglican Communion news
Anglican Life - Anglican bishops condemn Boko Haram
Anglican Life - Development work 'helps unite the Communion'
Anglican Life - Hollywood actor Forest Whitaker is set to play Desmond Tutu in film.
Anglican Life - Presiding Bishop calls for focus on Millennium Development Goals for Lent
Anglican Life - 2012 Courses at the Anglican Centre in Rome
Anglican Life - NZ Cathedral fate known next month
Comment - Rev John Suddards: The dangers of fulfilling a Christian duty
Digital Communion - Episcopal Church launches new iPad app, 'Wayfarer'
Bookshelf - First female Bahamian Anglican priest releases a "Christian Conch Salad"
Video -

The importance of Christian life at University
Ministry among refugees has breathed life into the whole community
Ugandan Bishop Zac Niringiye on the secrets of evangelism

The coming week's Anglican Cycle of Prayer.
__________________________
ANGLICAN NEWS

************
ANGLICAN LIFE
Anglican bishops condemn Boko Haram
By Nwanosike Onu, Awka in The Nation

Anglican bishops yesterday rose from a meeting in Awka, the Anambra State capital, condemning the activities of the terrorist group, Boko Haram. They said Nigeria's break up would have consequences on every citizen whether Christian or Muslim. The over 170 Anglican bishops were in Awka for a standing committee meeting.
The Primate, Rev Nicholas Okoh, addressed the bishops yesterday at the Cathedral Church of Saint Faith, saying the issue of Boko Haram was a foregone conclusion. He advised northern and southern indigenes not to relocate as, according to him, "we are all one".
Also, the Bishop of Dutse, Jigawa State, Rev Yusuf Lumu, said the sect had reached its crescendo and would die a natural death with prayers. His words: "Look at what happened in Kano after the attack, over 85 per cent of the people affected were Muslims and you can imagine what that means. Can you still say that Boko Haram is against Christians? It has been hijacked by politicians.
"Initially, it was a religious sect with its motive probably to Islamise every community in the country but with the hijacking of the sect by politicians, it turned as if they are portraying Islam in bad light." He said with the prayers of the churches, Boko Haram would soon become history.
Lumu appealed to other northern governors to emulate their Jigawa State counterpart, Sule Lamido, by ensuring there were no security threats in their states. The Bishop of Oleh Diocese, Rev Jonathan Edewor, called for a Sovereign National Conference (SNC) to discuss the nation's problems.
He attributed most of the country's problems to lack of focus among the leaders. Edewor frowned at what he called 'enormous powers concentrated at the centre' at the expense of the states. The bishop said such powers should be transferred to the states. Host Governor Peter Obi hailed the bishops for being vocal on the issues affecting Nigeria.
He said if the churches do not change Nigeria but allow the nation change them, the country would be 'finished'. The governor gave reasons why he supported the removal of oil subsidy.
"It was a difficult decision by the President, the governors and some stakeholders but we cannot help it, the cost of running government is high," Obi said.
The standing committee was also addressed by the Deputy Speaker of the House of Representatives, Emeka Ihedioha. The Bishop of Awka, Rev Alex Ibezim, praised the standing committee for choosing "Pressing towards the mark" as the topic for the meeting.
******************
Development work 'helps unite the Communion'
From the Church Times
Development issues were debated by the Synod on Tuesday afternoon. The Anglican Alliance for Relief, Development and Advocacy (AARDA) arose from a arequest from the Lambeth Conference 2008 for a structure that would bring together development relief and advocacy work across the Anglican Communion, said Sally Keeble, the director of the AARDA.
It drew its inspiration from the five marks of mission, especially three: to respond to human need with loving service; to seek to transform the unjust strctures of society, to try to safeguard the integrity of creation, and sustain and renew the life of the earth.
There had been two years of consultation, thought, and prayer to develop a vision very different form other international-development entities. It was nota top-down structure, but one that empowered the Church from the grass-roots in all the different contexts of the Communion.
There were three pillars to the work: Advocacy was particularly important because it was an area in which the Angilcan Communion was particularly well place, given its global reach and access to authentiticities in many countries. It was also an area where some of the partner Anglican agencies were not able to operate.
Whne they started finding out what their priorities should be --consulting from the grass-roots updwards -- some of the decisions were unexpected. Ms Keeble said that she expected HIV and AIDS to be prioritised, but they were not. the priorities were reached through discussions with Churches in Africa, the Pacific, Asia, Latin America, and the Caribbean.
"We work through capacity-building, supporting and energising what is there, adding value and co-ordinating. The latter is especially important in relief workd." But the did not duplicate what anyone else in the Communion was doing.
In their office in London, she said, she had two young women colleagues one of whom was a Colombian who spoke Spanish, and was essential for work in Latin America and the Caribbean. They also had an internship scheme, run with the london School of Economics; "so it's a proper scheme, not cheap labour." That , she added, was probably as big as the London office was every likely to be.
She believed that the Alliance had a great potential for the Anglican Communion, and for international development. It provided a space where the Church could rethink the way it carried out marks of mission in a changing world.
She then took questions from the Synod. Responding to the Bishop of St Albans, Dr Alan Smith, she said that development work had made it possible for people int he Communion to work together "who might not otherwise have done so".She also confirmed that the Alliance regarded fair trade as "extremely important" as was the use of IT.
In answer to His gGrace Bishop Angaelos (Coptic Orthodox Church), Ms Keeble said that the Alliance worked only with the local Church. "There is no issue of going in and doing something as the Alliance," she said.
In answer to Anne Martin (Guildford), Ms Keeble said that the Alliance shared a conference in central Africa recently. "The Mothers' Union is extremely important and recognised as such," she said.
Ms Keeble assured Canon Chris Sugden (Oxford) that the work of the Alliance was firmly set in the context of the Christian faith. "It is about telling the good news, and is set within the five marks of mission."
Read more on page 7 of the General Synod report here
**********************
Hollywood actor Forest Whitaker is set to play Desmond Tutu in a new film adaption.
From The South Africa.com


The Academy Award-winning actor of The Last King Of Scotland and Platoon will play the Archbishop during his time with the Truth and Reconciliation hearings, which were established after the end of apartheid.

The working title is currently The Archbishop And The Antichrist. London-born director of The Mission and The Killing Fields, Roland Joffe is at the helm of the project.

Based on Michael Ashton's fictional play of the same name, the story imagines a meeting between the real Tutu and a boorish white South African mass murderer called Piet Blomfeld seeking redemption for his crimes.

The film will be produced through Joffe's company Lightmotive, with Joffe adapting the play for film himself.

The film is still in the very early stages. Speaking in Berlin, Joffe also spoke about another upcoming project, entitled In God We Trust, and is also in post-production on his $35 million feature Singularity.
************
Episcopal Church Presiding Bishop calls for focus on Millennium Development Goals during Lent 2012
By Neva Rae Fox, The Episcopal Church
Episcopal Church Presiding Bishop Katharine Jefferts Schori invites a focus on the Millennium Development Goals for Lent 2012.
"I invite you to use the Millennium Development Goals as your focus for Lenten study and discipline and prayer and fasting this year," Presiding Bishop Jefferts Schori said. "The Millennium Development Goals are truly reflective of several of the Five Marks of Mission."
An audio of her 2012 Lenten message is available here or http://www.episcopalchurch.org/page/presiding-bishop
The text of her 2012 Lenten message follows.

Lent Message 2012
I greet you at the beginning of Lent.
In this year I'm going to invite you to think about the ancient traditions of preparing in solidarity with candidates for baptism, to think about the old disciplines of prayer and fasting and alms-giving and study, through the focus on those beyond our communities, in the developing world, who live in abject poverty.
I invite you to use the Millennium Development Goals as your focus for Lenten study and discipline and prayer and fasting this year. I'm going to remind you that the Millennium Development Goals are about healing the worst of the world's hunger. They're about seeing that all children get access to primary education. They're about empowering women. They're about attending to issues of maternal health and child mortality. They're about attending to issues of communicable disease like AIDS and malaria and tuberculosis. They're about environmentally sustainable development, seeing that people have access to clean water and sanitation and that the conditions in slums are alleviated. And finally, they are about aid, foreign aid. They're about trade relationships, and they're about building partnerships for sustainable development in this world.
As you pray through the forty days of Lent, I encourage you to attend to the needs of those with the least around the world. I would invite you to study, both about how human beings live in other parts of the world and our own responsibility as Christians.
What the Bible says more often than anything else is to tend to the needs of the widows and orphans, those without. Jesus himself says, "Care for the least of these."
I invite you to consider your alms-giving discipline this Lent and remember those in the developing world who go without.
I wish you a blessed Lent and a joyful resurrection at the end of it that may be shared with others around the world.
God bless you.
The Most Rev. Katharine Jefferts Schori
Presiding Bishop and Primate
The Episcopal Church
*********************
2012 Courses at the Anglican Centre in Rome
The Anglican Centre in Rome was founded in 1966, and is located in the historic centre of Rome a few minutes from the Vatican. It is a UK charity, but its work is for Anglicans across the world. Its Director acts as the Archbishop of Canterbury's Representative to the Holy See, but he is available to the whole Anglican Communion. The Centre includes the library, a reading/seminar room, and a chapel dedicated to St Augustine of Canterbury.
Courses in 2012
There are still some places on our Courses
Contact Jan Hague, Course Administrator on administrator@anglicancentre.it
Monday 7 – Sunday 13 May 2012
God's Pauper: Franciscan Spirituality Today
The life and teachings of Francis of Assisi continue to be a powerful source of inspiration today. Course sessions will provide an in-depth encounter with Franciscan thought and spirituality. Through the 'touchstones' afforded to us in visiting Franciscan sites in Rome and in Assisi itself, we can be brought closer to his teachings and the worldwide movement he created over eight hundred years ago.
More Cost: 520 €

Monday 18 – Saturday 23 June 2012
Rome Summer School: A Writer's Rome
Byron exclaimed "Oh Rome! My country! city of my soul!" and over the centuries many writers have felt a sense of affinity with this many-layered city. Special guest speaker, Salley Vickers, author of Miss Garnet's Angel and The Other Side of You, which is set partly in Rome, will be looking at these and other novels with Roman associations (such as Portrait of a Lady and Middlemarch). The course will include the poetry of Keats and Shelley and some exploration of Rome, including those places associated with English writers.
More Cost: 520 €
Monday 22 – Thursday 25 October 2012
Exploration in Rome
A 'mini-pilgrimage' designed to enable independent travellers to explore their faith in the context of Rome and its centrality in Christian history. The course contains introductory talks on aspects of Rome, guided tours of several key Christian sites in Rome, attendance at the weekly Papal audience, guided reflections, corporate worship and several shared meals. Many of those attending may wish to extend their stay with further exploration of Rome.
More Cost: 220 €
*****************
Cathedral fate known next month

Charlie Gates for The Press

The fate of the earthquake-damaged ChristChurch Cathedral will be decided early next month. Bishop Victoria Matthews says in an advertisement in The Press today that the cathedral is "a very dangerous building" and that buildings are "secondary to our concern for people".

• Download the Cathedral advert.pdf 2.00 MB
She insisted the advertisement was not preparing the public for possible demolition of the cathedral. "We are not preparing for a certain outcome. We need to tell people what we know," she said. "That is not the point. The point is to share what we do know. It is not to prepare the ground for what we don't know."
Bishop Matthews said engineering reports on the building would be received by the diocese early in March and peer-reviewed by the Canterbury Earthquake Recovery Authority and the Historic Places Trust.
"I don't know what I will be told when I get all these reports. I don't know if it will be black and white or shades of grey. If there is a difference of opinion, it will take longer," she said. "Structurally, it is in bad shape, but I am not a structural engineer. We don't know what the report is going to say."
The advertisement includes photographs showing the extent of damage to the cathedral. The photographs, taken from a crane, show rubble inside the nave of the cathedral and the sagging tile roof. In the advertisement, Bishop Matthews says the December 23 quakes set back plans for the cathedral.
"The December 23 earthquakes came just as we were finalising the assessment and interim 'make safe' plans for it," she writes.
"We are now undertaking new engineering reassessments of the cathedral in order to determine what are the realistic options for the building's future ..."We believe they will be in a position to make an announcement and talk with the church community and the wider community early in March 2012."
Outgoing dean Peter Beck, who will be sworn in as a city councillor next week, referred media calls to public relations firm Chambers PR and Bishop Matthews.
"I am very happy with what is happening and I am very conscious of the fact it is all going very well," he said.
_____________________________
COMMENT

Rev John Suddards: The dangers of fulfilling a Christian duty
As a vicar is murdered after opening his home to strangers in need of help, we look at the risks that come with such charity.

By Peter Stanford, writing in The Telegraph
The Vicar of Dibley confirmed for television audiences a long-standing stereotype of life in rural Anglican parishes. While not without its challenges – eccentric churchgoers, tricky parish councillors, local busybodies – it was presented as reassuringly middle-class, cosy, safe and far removed from the front line of the inner city vicarage, as featured in that other small-screen favourite, Rev.

Clergy, though, have long protested that the distinction is a false one, and that the reality of their daily lives is more complex, challenging and frightening than either. The murder this week of the Reverend John Suddards tragically brings home their point.

The 59-year-old unmarried vicar had arrived last July at the parish of St Mary's in the quiet medieval market town of Thornbury in south Gloucestershire. It was to be, the former barrister had said, a "retirement posting", closer to his extended family in Dorset than his previous incumbency in Essex. But that didn't mean he was cutting any corners in his ministry. In a sermon last October, Mr Suddards spoke of what he called "his Christian duty" to open the door of his vicarage to all vulnerable strangers and offer them shelter and support. "It's a bit risky," he added, "you don't know who you're letting in to your home."

He appears to have paid the highest possible price for that Christian duty. Avon and Somerset police are following up the theory that one of his callers stabbed him to death, leaving his body to be found by builders on Tuesday morning. It is a murder, says the Archdeacon of Gloucester, the Venerable Geoffrey Sidaway, that once again highlights the dangers routinely faced by clergy. "Many on a daily basis open their homes and churches to people, and clearly that can put them in a vulnerable position."

The Church of England, with its national role, has long insisted that it must be a presence in every area of the country, whether it be peaceful villages dominated by beautiful churches, or down-at-heel urban areas where only a tiny minority are churchgoers. The welcome on offer is the same in all places, available for anyone who needs it regardless of their belief.
Read the rest of the article here

_____________________________
DIGITAL COMMUNION
Episcopal Church launches new iPad app, 'Wayfarer'
First issue features the story of Kivalina, Alaska
The Episcopal Church Office of Communication has launched its first iPad app, Wayfarer.

Available as a free, quarterly iPad app downloadable at iTunes, all the content can also be viewed in an Internet browser here.

"Wayfarer features compelling stories told through video, photographs and words," said Lynette Wilson, Wayfarer producer.

Wilson, who is also an editor/reporter for Episcopal News Service, addressed the appropriateness of the name. "We chose to name the app Wayfarer because we intend to tell a wide spectrum of stories about people, possibilities and action across a broad landscape," she said.

"This is an exciting moment – it represents our entry into mobile content, appealing both to Episcopal and broader audiences," noted Anne Rudig, Director of Episcopal Church Office of Communication. "As the title suggests, each issue of Wayfarer has been shot in a different far-flung location."

Kivalina
The first issue is Kivalina, which chronicles the story of Indigenous Alaskans faced with having to move their entire village to higher ground because of rising sea temperatures.

Wilson and two cinematographers, Cristina Valdivieso and Jon Connor, spent a week in Kivalina, AK, an island village some 80 miles above the Arctic Circle, reporting on and documenting the impact of climate change on this indigenous community.

Kivalina unfolds over nine chapters, covering whaling, indigenous beliefs, village life and the village's potential relocation.

In the coming months, Wayfarer will release an issue on four Episcopal nuns, who had no previous farming experience and planted an organic garden in a move toward food self-sustainability.

Wayfarer, along with Episcopal News Service, are part of the Episcopal Digital Network, a digital publication network that delivers news and feature stories to church leaders, members and general audiences.

Follow on Twitter @WayfarerStories

Wayfarer: http://WayfarerStories.com

iPad app: http://itunes.apple.com/us/app/wayfarer/id465079051?mt=8&ls=1

Important note: The iPad app version of Wayfarer includes nine chapters of optimized high-definition video ranging in length from less than two minutes to just more than five minutes. The average download time is five minutes, but download times may vary based on the strength and speed of your WiFi connection and the number of people accessing WiFi through that connection.
____________________________
VIDEOS:
Christian life at Huron University College
Ministry among refugees has breathed life into the whole community
Ugandan Bishop Zac Niringiye on the secrets of evangelism

In this video, Huron University College has captured the importance of Christian life, from baptism to funeral, in the midst of the educational environment.
Refuge and rebirth: The Church in Western New York
Economic hard times hit the once-wealthy port city of Buffalo in the mid-twentieth century. As population plummeted, the Church stayed, and now finds itself with a rejuvenated mission, and lots of new faces to lend a hand.
Ugandan Bishop Zac on the how and why of evangelism: "there are no shortcuts"
_____________________________
BOOKSHELF
Reverend Angela Palacious releases, "Christian Conch Salad"
From The Bahamas Weekly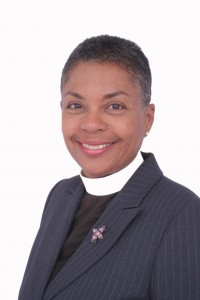 Nassau, Bahamas - First featured in the Religious Section of The Tribune and in the Bahama Journal, Christian Conch Salad is a collection of devotional meditations by Rev. Angela C. Bosfield Palacious, the first Female Bahamian Anglican Priest and formidable yet humble woman of God. Designed for personal reflection as well as family and group discussion, these devotions cover a broad range of practical spirituality both at home and out in the world. Through her powerful autobiography Reverend Palacious encourage readers in spiritual awareness and self-love as part of their relationship with God.
The title of Christian Conch Salad (a Bahamian delicacy) is intended to convey the idea of a spicy collection of "materially-mixed meditations". Just as conch salad has conch, tomatoes, onion, sweet pepper, celery, lime, salt and other ingredients if desired, so too, this book consists of reflections on a vast array of subjects over an undetermined period of time.
Some of these meditations were written for airing on radio, others were written for church bulletins and newspapers. They are presented as observations on life as seen through the eyes of a Bahamian Christian.

"It is my desire that you digest it all, internalizing and applying to your own situation whatever seems to be relevant at the time. I also trust that it will leave a memorable taste in your mouth" ~ Rev. Angela C. Bosfield Palacious"

"Every reader is invited to travel through life and death experiences which take you into the heart of God. I am indeed grateful for Reverend Angela's inspiration and wisdom in writing these insightful meditations for spiritual discernment to approach the myriads of life's challenges." ~ Jacqueline Mycklewhyte

"What you have here is a very brilliant book. It is creative and a great inspiration…Nation saving, it seems, is upper most on her mind." ~ Obediah Smith

"Outstanding, succinct and insightful. Spans the range of everyday experiences which people of all ages, young and senior can identify. Paves the way to positively impact spiritual wholeness. The Lord has guided Angela's heart, soul and hand yet again. Truly a bestseller." ~ Matthew Mitchell
The Rev'd. Angela Bosfield Palacious, born in Nassau, was the first female Bahamian deacon (1999) and priest (2000) in the Anglican Diocese of the Bahamas and the Turks and Caicos Islands.
In the past , she has published eight books of meditations, two prayer cassette tapes which are now on CDs, and seven volumes of meditations on CDs. Her newest publication is Christian Conch Salad a book of meditations on culture, faith and family, which is available on Amazon, from the author and in several local stores.
Rev. Angela is the Anglican Hospital Chaplain, is married to an Anglican priest and has one son.
More information: http://www.revangelapalacious.com/
__________________________________
ANGLICAN CYCLE OF PRAYER
Click here for the full ACP
Friday 17-Feb-2012
Psalm: 49: 1-13 Prov. 26: 1-12
Atlanta - (IV, The Episcopal Church) The Rt Revd John Alexander

Saturday 18-Feb-2012
Psalm: 90: 1,2,12-17 Prov. 27: 6-22
Auckland - (Aotearoa NZ & Polynesia)The Rt Revd Ross Bay
Sunday 19-Feb-2012 Epiphany 7
Psalm: 5: 4-8 II Cor. 1: 1-14
PRAY for Iglesia Anglicana de la Region Central de AmericaThe Most Revd Armando Guerra Soria Primate of IARCA & Bishop of Guatemala

Monday 20-Feb-2012
Psalm: 84: 1-7 II Cor. 1: 15-2: 4
Aweil - (Sudan)The Rt Revd Abraham Yel Nhial

Tuesday 21-Feb-2012 Shrove Tuesday
Psalm: 116: 12-end II Cor. 2: 5-17
Awgu / Aninri - (Niger, Nigeria) The Rt Revd Emmaunuel Ugwu

Wednesday 22-Feb-2012 Ash Wednesday
Psalm: 19 Ro. 9:1-13
Awka - (Niger, Nigeria) The Rt Revd Alexander Ibezim

Thursday 23-Feb-2012
Psalm: 17:1-11 Job 22:1-14
Awori - (Lagos, Nigeria) The Rt Revd J Akin Atere


__________________________________
If you have any comments relating to the Weekly ACNS Review please contact news@aco.org
For subscription Information please go to: http://www.anglicancommunion.org/acns/help/acnslist.cfm
To UNSUBSCRIBE or CHANGE your address, please send a message using your subscribed email address to: leave-acns@acolists.org
Disclaimer: The Weekly Review is a summary of news, information and resources gathered from around the Anglican Communion over the past week. The views expressed in Weekly Review do not necessarily represent the views or opinions of the Anglican Communion Office.