A weekly roundup of Anglican Communion news plus opinion, reviews, photos, profiles and other things of interest from across the Anglican/Episcopal world.
This edition includes...
This week's Anglican Communion news
Anglican Life - Anniversary party for Anglicans wrapping up
Anglican Life - Clergyman jailed for sham marriage scam
Anglican Life - St Andrew's Cathedral celebrates 150 years
Anglican Life - Archbishop of Wales Barry Morgan requests help for Iranian dissidents in Iraq
Anglican Life - Anglican Bishop tells Christians to participate in politics
Anglican Life - Bishop Alan renews Caribbean links
Anglican Life - "Abide in God for spiritual effectiveness" women told by Archbishop Okoh
Anglican Life - Help us plant trees for carbon - SA churches
Digital Communion - Anglican Women at the UN
Bookshelf - Priest's Romany-Traveller encounter inspires book and offers hope
And finally... Saints go head to head for Lent
The coming week's Anglican Cycle of Prayer.
__________________________
ANGLICAN NEWS
************
ANGLICAN LIFE
Anniversary party for Anglicans wrapping up

The Tribune
THE Anglican Diocese of the Bahamas and the Turks and Caicos Islands will conclude its year of celebrating 150 years as a Diocese on Sunday, 5 February with a special service at Christ Church Cathedral. The service will be a solemn evensong, sermon and benediction.
The president and preacher will be the Rt. Rev'd. Laish Boyd, Diocesan Bishop, with special music provided by St Agnes Senior Choir.
The service marks the end of 13 months of celebration thanking God for 150 years of diocesan status and more than 360 years of Anglican presence in the islands.
The highlight has been the special November weekend of celebrations, which included the Diocesan Ball and the Thanksgiving Service, Procession, and the Blessing of the City of Nassau.
Over 900 Anglicans attended the ball on Friday, November 4 and hundreds packed Christ Church Cathedral on Sunday, November 6 for the Thanksgiving Service.
Attending the Thanksgiving Service were Sir Arthur and Lady Foulkes and other government officials, such as Prime Minister Hubert Ingraham and Opposition Leader Perry Christie. Various church and community leaders and senior civil servants were also in attendance.
The Diocese also welcomed the House of Bishops and the Standing Committee of the Anglican Church in the Province of the West Indies (CPWI) for their bi-annual meetings in November. The meetings were chaired by The Most Rev. Dr. the Honourable John Holder, Archbishop of the West Indies and Bishop of Barbados and held at the Holy Cross Parish Centre. The visiting bishops also attended the special weekend of activities.
Other events celebrating the 150th anniversary included the special postage launch, the Diocesan Track and Field Sports Meet, visits of provincial bishops to various Family Islands, issuance of a special 18-month calendar, a fun run/walk, easter egg hunt, and special parish celebrations.
The presence of the Anglican Church can be traced from the early beginnings of Bahamian history. The Eleutherian Adventurers after 1647 made the first settlement of the English. This came after the islands had been more or less abandoned after the Spaniards eliminated the early Lucayan population.
It is said that the Eleutherian Adventurers included two Anglican priests, Stephen Painter and Nathaniel White, who had left the church. In 1670 the Bahamas was granted to the Lord Proprietors of Carolina by the English Crown. Among the requirements of this Grant was the establishment of churches in the islands.
Christ Church Cathedral dates from 1670. As the town of Nassau developed in status, in 1734 the island became the Parish of Christ Church and in 1861 the town became a city. The latter was a direct result of the elevation of Christ Church to a Cathedral.
In 1861, Queen Victoria issued Letters Patent making Christ Church a Cathedral and the town of Nassau a city. Nassau's status was further legitimised in 1882 when the House of Assembly passed the law ratifying its claim to the title of city.
Since its inception the Anglican Church in the Bahamas has been integrally involved with the life of the Bahamas and the Turks and Caicos Islands. Members of the Anglican communion have always been in the forefront of the total life of the community through providing teachers, doctors, musicians, athletes, lawyers, politicians, nurses, carpenters, and in the sharing of many different talents and skills to the ongoing development of these communities.
The closing service will bring together all clergy and lay people from all over the diocese as well as representatives from all the functioning diocesan ministries.
******************
Clergyman jailed for sham marriage scam
By John Bingham in the Daily Telegraph
An Anglican clergyman who advised the Church of England on how to handle sham marriages has been jailed for two and a half years for conducting dozens of the illegal ceremonies himself.


The Revd Canon Dr John Magumba married a stream of Nigerian men to EU citizens giving them a "golden ticket" to stay in Britain, a court heard. At one point he was conducting so many weddings involving foreigners that he was put him in charge of a committee of diocesan working party on how to handle the issue – including how to spot sham relationships, Bolton Crown Court heard.
He "asked no questions" despite a dramatic surge in African men choosing his churches in Greater Manchester to marry Polish, Slovak or Czech women. The father-of-six, originally from Uganda, was serving as a team vicar in the parishes of St Mary's in Rochdale, St Peter's in Newbold and St Luke's in Deeplish when the bogus weddings took place between 2007 and last year.
He evaded internal church safeguards by conducting some in secret and failing to read the banns for others or to check the addresses which had been given by the parties. His activities only came to light when police and UK Border Agency officials investigating a separate suspected sham marriage came across his church records and noticed a sudden spike in weddings. While there were no marriages recorded at St Peter's from 1996 to 2007 there were 20 between April 2008 and February 2011.
When addresses given for couples in the registers were checked, it emerged that they often did not exist. He married one "groom" and another "bride" twice in the space of weeks and another man was issued with three separate marriage certificates. There were also entries in registers with missing certificates that could not be traced. At one church there were two weddings recorded as taking place within two hours on October 3, 2009.
**************
St Andrew's Cathedral celebrates 150 years
By Jennani Durai in the Straits Times
President Tan attends special thanksgiving service at cathedral.
St Andrew's Cathedral celebrated the 150th anniversary of its consecration with a thanksgiving service on Wednesday evening. The two-hour service was attended by President Tony Tan Keng Yam and his wife Mary, who are Anglicans
It included traditional hymns, Holy Communion and a sermon from Archbishop John Chew, bishop of the Anglican Church in Singapore and Archbishop of South-east Asia. Special liturgy was also included in the service to mark the 150th anniversary of the church's consecration. Wednesday also marked the conversion of St Paul to Christianity on the liturgical calendar of the Anglican Church.
***************
Archbishop of Wales Barry Morgan requests help for Iranian dissidents in Iraq
By David Williamson
Archbishop of Wales Barry Morgan has made a direct appeal to the United Nations High Commissioner for Refugees to prevent the killing of thousands of Iranian dissidents in Iraq.
The Anglican leader fears that lives of 3,400 lives are in danger because of the Iraqi government's plans to close down Camp Ashraf, where opponents of the Iranian regime have sheltered since 1986. The Iraqi Government wants the dissidents to be relocated at an abandoned US military base but Iranian exiles are concerned this will become a prison and expose them to new dangers.
The Archbishop also fears the move could result in a bid to "annihilate these defenceless refugees". Camp Ashraf is home to members of the People's Mojahedin Organisation of Iran, as well as relatives and supporters. The group is viewed with suspicion by many in Iraq because it was backed by former leader Saddam Hussein. However, it has won widespread international backing because of its commitment to a "secular, democratic and non-nuclear" Iran.
In a letter to the High Commissioner, Antonio Guterres, Dr Morgan writes: "The Iraqi government has twice attacked and massacred more than 50 civilians of Ashraf on April 8, 2012 and July 28, 2009, including eight women. The video clips showing these killings are indeed shocking.
"For the last three years, the residents of Ashraf have been under an inhumane siege including a medical siege. Many have died as a result of their injuries and lack of any medical help. Several cancer patients have lost their lives because of the medical ban and preventing them from visiting doctors and receiving medical treatment. It is the responsibility of the UN to protect these defenceless people and help them with their safe transfer to safe western countries."
Read More http://bit.ly/w1ZhR3
**************
Anglican Bishop tells Christians to participate in politics
From Ghana News Agency
Christians have been advised to actively participate in the country's political process, and elect people with integrity and high moral values as leaders to enhance the development of the country. They have also been cautioned to reject people who incite violence with the evil agenda to divide the country along religious and ethnic lines for their political agenda.
The Right Reverend Bishop Jacob Kofi Ayeebo, made the appeal at his enthronement and installation as the Diocesan Bishop of the Anglican Diocese of Tamale on Sunday. He was installed by the Right Reverend Abraham K. Ackah, Anglican Bishop of the Wiawso Diocese.
Bishop Ayeebo, who was born in 1960 and joined the Christian faith in 1976, served as assembly member for Bawku West District, Chairman, Bawku Naaba Educational Endowment Fund, Chairman, Board of Governors, Clinical Health Training School, Bolgatanga and acted as Chairperson of several rural banks.
Bishop Ayeebo urged the people to remain: "Prayerful, united and unprovocative in our language during the period of campaign and elections to ensure free, fair and transparent elections to preserve the peace of Ghana".
Bishop Ayeebo reminded Ghanaians that the philosopher Plato said: "The penalty that good men pay for not being interested in politics is to be governed by men worse than themselves".
He urged people to come out in their numbers and register in the biometric registration exercise in March and in the General Election in December to: "Elect people who have subjected themselves to the rule of Christ's Kingdom".
Dignitaries at the ceremony included, Mr Cletus Avoka, Majority leader in Parliament and Mr Mark Woyongo, Upper East Regional Minister, who is also acting Northern Regional Minister.
****************
Bishop Alan renews Caribbean links
From SeeRound the Diocese of St Albans' newspaper
At the end of November 2011, during his visit to our link dioceses in the West Indies, Bishop Alan [Smith of St Albans] signed new agreements of co-operation with the Dioceses of Guyana, the Windward Islands and the NE Caribbean and Aruba. An agreement to explore over the next two years whether to enter into a formal link with the Diocese of Belize has also been signed.
Bishop Alan was accompanied on the visit by Archdeacon Jonathan Smith and Fr Darren Collins, Vicar of Norton and Chair of the Caribbean Links Group. The agreements are to be reviewed after two years and make four commitments:
1. To support each other actively in prayer
2. To support each other in sharing resources and skills
3. To explore and enable exchange of people
4. To share in specific projects.
To see images from the trip visit: https://picasaweb.google.com/akataria001/carribeanlinkdiocesesnovember2011#
*****************
Quake memorial in Feb
A civic memorial service will be held to mark the one-year anniversary of the February earthquake, it has been announced.
The Christchurch City Council said the service would be held from noon to 1.30pm on February 22 at North Hagley Park, with the Christchurch Earthquake Awards to follow.
The magnitude-6.3 quake struck the city on February 22 and killed 182 people.
Mayor Bob Parker said it was important the service had a community focus.
"We experienced tremendous loss in 2011, and while it is important to remember those lost we also need to look ahead to the future as a community,'' he said. "The public commemorative events will provide us with the opportunity to collectively reflect on the events of the past year.
"We have consulted with the community, service agencies and central government and believe that the public events will provide an opportunity for us to come together."
The memorial would include music from Christchurch schoolchildren, and two minutes' silence would be observed from 12.51pm.
''I hope that all Christchurch residents who are at work or elsewhere in the city, and are unable to attend the service, will also observe two minutes of silence at this time to honour those lost,'' Parker said.
The council said more details would be released early next month.
**************
"Abide in God for spiritual effectiveness" women told by Archbishop Okoh
From the Facebook page of the The Church of Nigeria (Anglican Communion)
The Primate of all Nigeria (Anglican communion) the Most Rev. Nicholas D. Okoh said although the country has been boiling and things have been very rough, since the beginning of this year, yet he said the citizenry should be of good cheer because God the present help in time of trouble is on the throne and the devil with all his tribulations is defeated and mountain is removed.

He gave these words of hope and assurance at the annual rededication service of women of the diocese of Abuja Anglican Communion at the Cathedral Church of the Advent Life Camp Abuja.

Archbishop Okoh who took the text of his message from 15th chapter of the gospel according to St John said God has power to trim and prune and without him the world can do nothing hence everybody must cling to him to receive spiritual nourishment.

He challenged the generality of the women not to allow anybody to rob them of their associating with the fellowship in prayer. According to him, that is where their strength lies. He said they should not be superficial but come directly with the word of God and keep close to it to be transformed and purified.

The cleric asked the women to have covenant with Jesus and not with wicked groups because it can result in physical and spiritual sickness. He said for them to flourish and bear good fruit they must rely in the word. Women according to him must bear fruit unto righteousness for their prayers to be answered and attain spiritual effectiveness.

The head of the Anglican Church in Nigeria said no matter who they are in the world the common denomination that galvanizes children of God together is the blood of Jesus hence they must humble themselves, serve him diligently and in the course of serving him he will increase and multiply them.

He admonished them not to hide their resources, training, talents and intellect from God. Anything to the contrary he said will lead to punishment. About one thousand women attended this year's rededication service led by their president and wife of the primate, Mrs Nkasiobi Okoh.

High point of the service is election into various offices of the mother's union and women's guild
***************
Help us plant trees for carbon - Southern Africa Church
From the Anglican Church of Southern Africa
The Anglican Church of Southern Africa is inviting members of the Communion to join a carbon offset scheme here which will be see trees planted at Anglican Churches and Institutions across Southern Africa.
"The idea is that for every flight that taken by Anglican Communion members you can pay for trees to be planted," said Rachel Mash ACSA's Environmental Coordinator. "These will be looked after by members of the Anglican church, either through churches, schools or institutions such as orphanages. As well as offsetting your carbon emissions, you can create beauty and shade."
Climate change affects all of us, but Africa is the most vulnerable. Although the best solution is to cut out air travel where at all possible, there are times when we need to travel by plane. In order to offset the carbon emissions from your flight, you can purchase trees that will be cared for by Anglican churches, schools, creches or orphanages.
Deforestation is responsible for about 20% of global warming. Reforestation is a critical part of the solution. Planting trees absorbs carbon dioxide to reduce climate change, it improves air quality, preserves biodiversity, controls flooding by minimizing runoff and topsoil loss and provides habitat and nutrition for wildlife.
Rachel added, "Africa is the continent most vulnerable to climate change and assisting by planting trees is one small action we can all take."
http://www.globalgiving.org/projects/plant-10-000-trees-in-africa/
_____________________________
DIGITAL COMMUNION
Anglican Women at the UN
There's no excuse not to know about the Anglican women's delegation at this year's UN Commission on the Status of Women. Check out these sites and Social Media channels for webcast coverage, Episcopal and Anglican delegations' activities, delegates' blogs and tweets, interviews with delegates, pictures and stories of ministries back home, and more! Around 20 women from right around the Anglican Communion are attending. For about their participation click here
By Rachel Chardon, Special Assistant at the Anglican United Nations Office in New York.
UNITED NATIONS
Web: www.unwomen.org
Facebook: www.facebook.com/unwomen
Twitter: twitter.com/UN_Women
Flickr: www.flickr.com/photos/unwomen/
Youtube: www.youtube.com/unwomen
UNCSW 56
Web: www.un.org/womenwatch/daw/csw/56sess.htm
Facebook: www.facebook.com/pages/United-Nations-Commission-on-the-Status-of-Women-CSW/130940353596510
Twitter: twitter.com/UN_CSW
ANGLICAN COMMUNION OFFICE AT THE UNITED NATIONS
Web: http://www.aco.org/ministry/un/
Blog: See Global Partnerships blog: globalepiscopal.wordpress.com
Facebook: See Global Partnerships page at www.facebook.com/episcopalglobalmission
Twitter: See Global Partnerships account at twitter.com/episcoglobal
Blog: see Global Partnerships blog at globalepiscopal.wordpress.com
Flickr: see Global Partnerships account at www.flickr.com/photos/episcoglobal
YouTube: see Global Partnerships channel at www.youtube.com/episcoglobal
ANGLICAN WOMEN'S EMPOWERMENT
Web: www.anglicanwomensempowerment.org
Facebook: www.facebook.com/pages/AWE/100782546670221#!/pages/AWE/100782546670221?sk=wall
Blog: see Global Partnerships blog at globalepiscopal.wordpress.com
Flickr: see Global Partnerships account at www.flickr.com/photos/episcoglobal
YouTube: see Global Partnerships channel at www.youtube.com/episcoglobal
YOUNG ADULT /CAMPUS MINISTRIES
Blog: episcopalleadershipinstitute.wordpress.com
Web: www.episcopalchurch.org/page/young-adultcampus-ministries
Facebook: www.facebook.com/pages/Episcopal-Young-Adult-and-Campus-Ministries/144339395595177
NATIVE AMERICAN/ INDIGENOUS MINISTRIES
Blog: anglicancouncilofindigenouswomen.wordpress.com/2011/02/
Web: www.episcopalchurch.org/page/indigenous-ministries
Facebook: www.facebook.com/pages/Native-AmericanIndigenous-Ministries-of-the-Episcopal-Church/121658134519767\
Twitter: www.twitter.com/indig_episcopal
YouTube: www.youtube.com/indig_episcopal
GLOBAL PARTNERSHIPS
Web: www.episcopalchurch.org/page/office-global-partnerships
Facebook: www.facebook.com/episcopalglobalmission
Twitter: twitter.com/episcoglobal
Blog: episcoglobal.wordpress.com
Flickr: www.flickr.com/photos/episcoglobal
YouTube: www.youtube.com/episcoglobal
THE EPISCOPAL CHURCH
Web: www.episcopalchurch.org
Facebook: www.facebook.com/episcopalian
Twitter: www.twitter.com/iamepiscopalian
YouTube: www.youtube.com/user/TECtube
_____________________________
BOOKSHELF
Priest's Romany-Traveller encounter inspires book and offers hope

By Arun Kataria, from the website of the Diocese of St Albans.
Pioneering work amongst a Romany-Traveller community is documented in a new book, by the The Revd Martin Burrell, Vicar of Bushmead, Luton. The book, The Pure in Heart, An Epistle from the Romanies, is about the awakening of Christian faith amongst the Romany-Traveller community in Cranbrook, Kent, where Martin was based until Spring 2009. It reveals an unseen side of the Romany-Traveller community.
The title of the book, The Pure in Heart, recalls Jesus's words in the Sermon on Mount "Blessed are the pure in heart for they shall see God," familiar to many. Romany-Travellers from Cranbrook and from Bedfordshire met at Christchurch, Bushmead for the book's launch on 18th July.
Through his work with the Kent Romany-Travellers, Martin saw them being blessed by God in quite remarkable ways. He gradually became aware that they had something of immense value to offer the broader community in contrast to the marginalisation and vilification they had often received over many centuries.
He says: "They are open to supernatural Christian experience, committed to relationships of love and respect, and show tremendous passion for the Christian message." He summed up his experience of them: "I found them simple and deep, where I had become complex and shallow".
What Martin encountered has not gone unnoticed. Even the Archbishop of Canterbury, The Most Revd Dr Rowan Williams has remarked on Martin's book: "This is a record of how 'church' happens even when the institution isn't looking-how people are gathered together around Jesus Christ by the sheer force of the Spirit's leading. God constantly goes ahead of us in mission-not least in communities many Christians don't know about, or even don't much want to know about! It is a moving and inspiriting testimony to God's creative liberty at work in our times."
The Bishop of Bedford, The Rt Revd Richard Inwood has responded to the publication of the book: "Martin's readiness to obey his calling as a priest to care for all the people in his community led him to this ground-breaking work.
"Martin's encounters with the Romany-Traveller community in Kent and in Bedfordshire and his impressions of them are in stark contrast to the image of these communities that resides in the public imagination.
"Any encounter that offers deeper and better relationships between different parts of the community is to be welcomed. It is the role of Christians to help bring hope and peace to our communities."
Martin hopes that his book will draw attention to Romany-Traveller communities in a positive way and highlight their as yet unmet needs in our communities.
Martin concludes, "Local councils have yet to allocate 40% of the Gypsy-Romany- Traveller communities in Great Britain places where they can settle. With Roma-Travellers from Eastern Europe fleeing persecution, this issue is becoming more, not less urgent. How we make displaced and marginalised groups within our communities welcome is as much an issue as how we welcome strangers fleeing persecution. Both are litmus tests of our humanity. This is difficult issue for many to grapple with, but developing bonds of faith with Romany-Traveller communities could make a real difference."
Martin acknowledges that diffidence over engaging with Romany-Traveller communities exists within the Church too, but says: "I saw the Romany-Traveller community become a blessing to me, my ministry and the wider community. I hope this story will inspire many people." ends
(There is more about the venture in February 2012's issue of SeeRound the diocese's newspaper)

_____________________________
AND FINALLY...
Lent Madness 2012 Announced
The third annual "saintly smackdown" begins February 23rd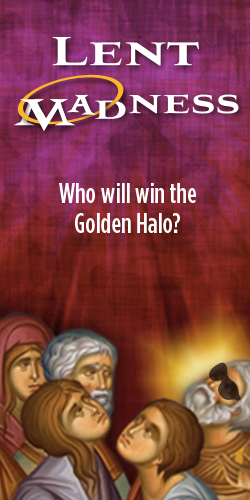 Lent Madness pits holy saints against one another in a battle to win the coveted Golden Halo. But it is more than that: Lent Madness is really an online devotional tool designed to help people learn about saints. The competition begins on Thursday, February 23.
The creator of Lent Madness, the Rev. Tim Schenck says, "My real goal in creating Lent Madness was to give people an opportunity to get to know some amazing people who have come before us in the faith. There's no reason that a Lenten discipline should be dreary and if this helps people connect with God during this season of penitence and renewal, and have a bit of fun in the process, then it's been worthwhile."
The format is straightforward: 32 saints are placed into a tournament-like single elimination bracket. Each pairing remains open for twenty-four hours and people vote for their favorite saint. 16 saints make it to the Round of the Saintly Sixteen; eight advance to the Round of the Elate Eight; four make it to the Final Four; two to the Championship; and the winner is awarded the coveted Golden Halo.
The first round consists of basic biographical information about each of the 32 saints. Subsequent rounds explore quotes and quirks, legends, and even move into the area of saintly kitsch.
Lent Madness began in 2010 as the brainchild of the Rev. Tim Schenck, rector of St. John's Church in Hingham, Massachusetts. In seeking a fun, engaging way for people to learn about the men and women comprising the Church's Calendar of Saints, Father Schenck came up with this unique Lenten devotion. Combining his love of sports with his passion for the lives of the saints, Lent Madness was born on his blog "Clergy Family Confidential."
This year Schenck has partnered with Forward Movement Executive Director Scott Gunn to create a dedicated website www.lentmadness.org and broaden the number of people involved in the selection and writing process. Eight "celebrity bloggers" have been tapped to write for the project including Dr. Meredith Gould, the Rev. Penny Nash, the Rev. Bosco Peters, Canon Heidi Shott, the Rev. Adam Thomas, the Rev. Laura Toepfer, the Rev. Neil Alan Willard, and the Rev. Chris Yaw. Information about each of the celebrity bloggers is available on the Lent Madness website.
This year's heavyweights include Joan of Arc, the apostle Paul, Dietterich Bonhoeffer, Mary Magdalene, Thomas Merton, Catherine of Siena, Nicholas, Thomas Cranmer, and Augustine of Hippo.
Visit www.lentmadness.org to view the full bracket of saints, learn about the contributors, and, starting on February 23, to vote.
Forward Movement has worked since 1935 to bring vitality and spiritual health to the church. Based on Cincinnati, OH, Forward Movement is widely known for Forward Day by Day. Lent Madness is one of many ways that Forward Movement hopes to encourage people of faith to live faithfully throughout their lives. Forward Movement is a ministry of The Episcopal Church.
__________________________________
ANGLICAN CYCLE OF PRAYER Click here for the full ACP
Friday 27-Jan-2012
Psalm: 37: 3-8 Col. 3: 12-25
Amichi - (Niger, Nigeria)
The Rt Revd Ephraim Ikeakor
Saturday 28-Jan-2012
Psalm: 145: 17-end Col. 4
Amritsar - (North India) The Rt Revd Pradeep Samantaroy

Sunday 29-Jan-2012 Epiphany 4
Psalm: 93 Wis. 1: 1-5
PRAY for The Anglican Church of Burundi The Most Revd Bernard Ntahoturi Archbishop of the Province of Burundi & Bishop of Matana

Monday 30-Jan-2012
Psalm: 1 Wis. 1: 6-11
Andaman & Car Nicobar Islands - (North India) The Rt Revd Christopher Paul

Tuesday 31-Jan-2012
Psalm: 103: 13-18 Wis. 1: 12-2:1
Antananarivo - (Indian Ocean) The Rt Revd Samoela Jaona Ranarivelo
Antananarivo - (Indian Ocean) The Rt Revd Todd Andrew McGregor

Wednesday 01-Feb-2012
Psalm: 32: 1-8 Wis. 2: 2-11
Anglican Parishes of the Central Interior (formerly Cariboo) - (British Colombia & the Yukon, Canada) The Rt Revd Barbara Jean Andrews

Thursday 02-Feb-2012 The Presentation of our Lord: Candlemas
Psalm: 50: 1-6 Wis. 2: 12-24
Angola (Missionary Diocese) - (Southern Africa) The Rt Revd Andre Soares
__________________________________
If you have any comments relating to the Weekly ACNS Review please contact news@aco.org
For subscription Information please go to: http://www.anglicancommunion.org/acns/help/acnslist.cfm
To UNSUBSCRIBE or CHANGE your address, please send a message using your subscribed email address to: leave-acns@acolists.org
Disclaimer: The Weekly Review is a summary of news, information and resources gathered from around the Anglican Communion over the past week. The views expressed in Weekly Review do not necessarily represent the views or opinions of the Anglican Communion Office.