Posted On : May 8, 2012 10:41 AM | Posted By : Admin ACO
Related Categories:
Ceylon
From the Sunday Times, Sri Lanka
Here Bishop Emeritus Rt. Rev. Duleep de Chickera reflects on the contribution made by the retiring Archbishop of Canterbury Dr. Rowan Williams, spiritual head of the worldwide Anglican Church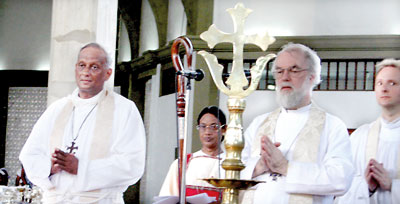 Archbishop Rowan Williams with Bishop Duleep de Chickera during his pastoral visit to Sri Lanka in 2007

Photo Credit: Sunday Times
The 104th Archbishop of Canterbury (ABC), Rowan Williams, surprised his admirers and critics alike when he recently announced his retirement for end 2012. There is little doubt that this decision is influenced by his understanding of vocation. Having striven to be faithful in one place he now moves on to be faithful elsewhere. This is vocation at its best, liberating and dynamic. It is liberating because of its detachment from any given office or responsibility and it is dynamic, because it discerns and enables fresh opportunities to serve God.
The office of the ABC goes back to 597 CE with the arrival and recognition of S. Augustine as the first Archbishop. Appointment to the historic Seat of Canterbury thrusts the incumbent into the awesome and arduous position of spiritual head of the world Anglican Communion. As such he becomes the focal point of truth and unity and is expected to guide the world Church through a pastoral presence and prophetic witness. The Office does not confer executive authority over the world Anglican Church.
Integrated leadership-As a leader Archbishop Rowan has an ideal combination of gifts. He is an erudite scholar, a caring pastor, a courageous prophet and a humble servant leader. His dealings and encounters with people rarely display pretence or patronage. Whether with the helpless and harassed, academics, world leaders or religious dignitaries, he remains the same. He has a profound ability to recognise the intrinsic value of the other, regardless of the others' perspective or identity. Where groups in Church and society are polarised he is courageous in taking a stand, but does so without excluding the other or closing the issue.
His tendency to try to absorb the pain of all in a protracted conflict has left its harsh marks on him. In this tendency however he stands in the Biblical tradition of the "Suffering Servant" which culminated in Christ. A rather touching weakness in the man is his reluctance to allow his radical understanding of truth to impact on the visible understanding of unity.
To read the rest of the article click here